More Than Words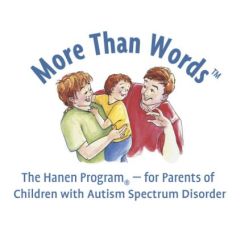 This is a Hanen program designed specifically for parents of children ages 5 and under on the autism spectrum and with other social communication difficulties. Addressing the unique needs of these children, the program provides parents with the tools, strategies and support they need to help their children reach their full communication potential.
Current Price: $1300pp
Discounts available for groups of 8 or more
For more information on the course, click here.
To register your interest in this course, and to stay informed of upcoming More Than Words course dates, please enter your details here.
More Than Words is a recognised intervention under both the HCWA and NDIS funding programs. Please contact us if you would like to explore using your funding package to attend this course.