Teacher Talk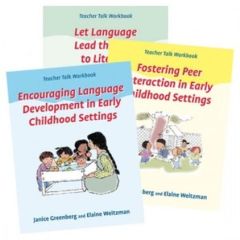 A condensed version of the Learning Language and Loving It program, Teacher Talk is divided into three full-day training sessions.
Training A: Encouraging Language Development in Early Childhood Settings will show participants how to use everyday conversations, play and daily routines to promote the communication and social development of all children.
Training B: Let Language Lead the Way to Literacy will discuss the important links between oral language development and literacy, and provide participants with practical strategies for paving the way for children to read and write.
Training C: Fostering Peer Interaction in Early Childhood Settings will show participants how to provide a physical and social environment that encourages peer interaction and creates many opportunities or successful interactions with other children.
Allow one day per topic and choose the topic(s) most relevant to your context. For more information on the course, click here.
Current price: $250pp
To register your interest in this course, and to stay informed of upcoming Teacher Talk course dates, please enter your details here.